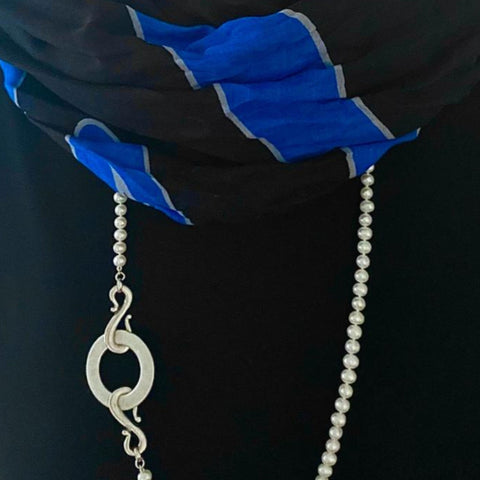 CELESTE Pearl Necklace
CELESTE Pearl Necklace,  7 mm white freshwater pearls. Hand-knotted with silk thread. On one side linked a circle and "S" shapes, silver plated zamak.
Circle Diametre 4 cm
Length of "S" Shape link 3,5 cm
Length 96 cm.
Tiny Imperfections on the Pearl Surface Are Normal
Imperfections such as spots, wrinkles and abrasions do not usually affect the durability of a pearl and are very common
Pearls were used cosmetically by the ancient Egyptians and by the Chinese, who credited the pearl with aphrodisiac virtues. The formation of a pearl is the result of the mollusk's self-defense mechanism, reacting to a foreign body; example: a grain of sand that managed to penetrate its flesh.

Zamak is an alloy of zinc, aluminum, magnesium and copper with a 12 microns silver layer. The advantages of Zamak include hypoallergenic properties as well as a nickel and lead free metal. Therefore, it causes neither allergies nor rashes.