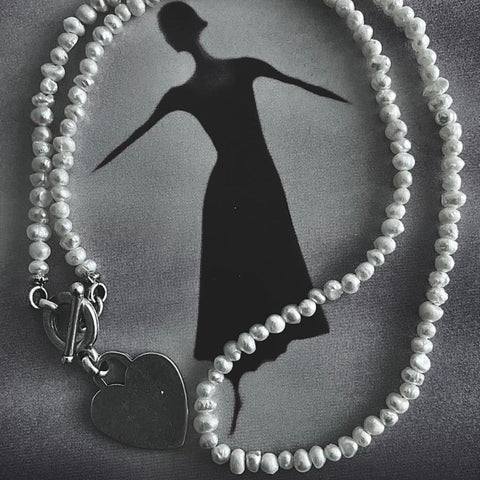 MARGARITA Pearl Necklace
MARGARITA Pearl Necklace,  3mm freshwater pearls. Heart on toggle clasp, silver plated zamak. 
Length 48 cm.
Toggle clasp circumference 1 cm 
Heart's length 2 cm
Fresh water pearls 3 mm
Tiny Imperfections on the Pearl Surface Are Normal
Imperfections such as spots, wrinkles and abrasions do not usually affect the durability of a pearl and are very common
Zamak is an alloy of zinc, aluminum, magnesium and copper with 12 microns silver plated layers. The advantages of Zamak include hypoallergenic properties as well as a nickel and lead free metal. Therefore, it causes neither allergies nor rashes.